Pylon 7on7 Football is dedicated to ensuring our athletes can participate and compete at the highest level while focusing on safety of the athletes.
---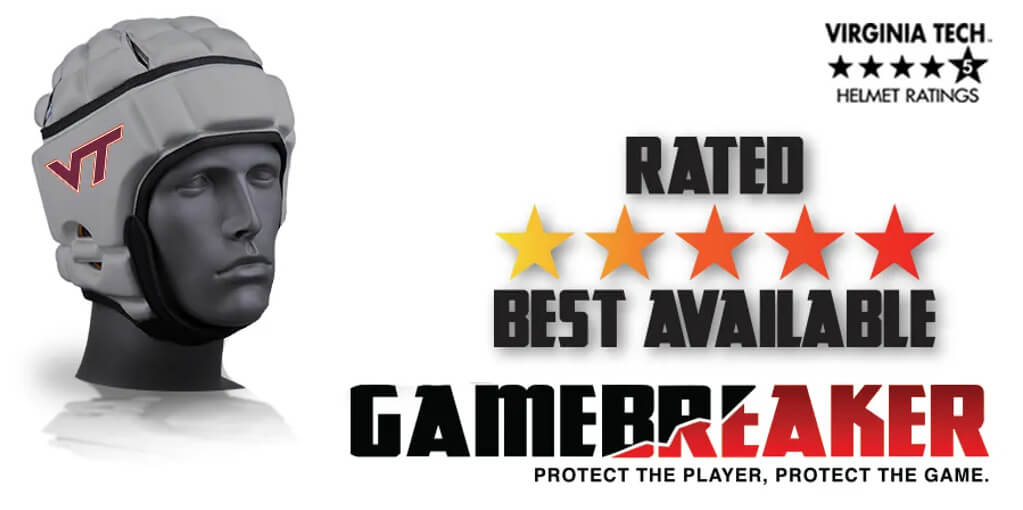 VIGINIA TECH HELMET LABORATORY TESTING
"There's a risk of injury in any sport, but protective equipment can reduce that risk significantly," said Steve Rowson, an assistant professor of biomedical engineering and mechanics and the Virginia Tech Helmet lab's director. "Our job is to get independent, evidence-based information out there to players, coaches, and parents, so that they can choose the equipment that's most effective…"
The most common head injuries in 7-on-7 football are when two opposing player's heads collide when both are going for the ball or when players are attempting to break up a pass or make a tag.
Gamebreaker headgear is designed to reduce the impact force from contact that may be generated by contact such as head to head, -knee, or -shoulder.
Virginia Tech Helmet Lab created a custom impactor used to test headgear under head-to-head conditions which are known to be associated with the highest risk of concussions in soccer*. The test consisted of two NOCSAE head and neck configurations representing the average male. Headgear was positioned on the heads and impacts were made to the side and back of the head at three different velocities. Each test was performed twice on each sample headgear. The same test was conducted on bare heads (without headgear) to be used as the control scenario. Results of the headgear were compared to the results of the bare head impacts which determined the final STAR rating.
* Virginia Tech Biomedical Engineering and Mechanics laboratory performs testing for tackle football helmets which the NFL, NCAA and NFHS use based on NOCSAE standard requirements. Pylon is one of the first organizations in the United States to mandate a soft shell helmet for its athlete's protection. Helmets must meet the following requirements/standards. As of publishing this standard, only Gamebreaker softshell helmets have a 4 star and 5 star rated helmet by Virginia Tech Labs.
PYLON HELMET REQUIREMENTS
1. Must have at least a 4-star rating from Virginia Tech Lab or equivalent**
2. Must have at least 75% head coverage (Not including face)
3. Must have NO metal or hard-plastic component parts (Strap buttons, etc..)
4. Must have no sharp or hard edges, and/or anything that could cause harm to the player wearing headgear or any other player.
5. Must have a retention system (chin strap, etc)
**Proof of product testing from a lab other than Virginia Tech must be submitted to This email address is being protected from spambots. You need JavaScript enabled to view it. for approval of headgear. A sample of headgear will also need to be submitted for evaluation.